Buy What You Love
We're living in an era inundated with imagery, ideas and opinions about art, and I'm an artist that thrives in the thick of it all!
Still, it can be difficult to pause and know what to focus on. When it comes to living with art, so many channels compete for our attention that we can get lost.
Art Bomb was founded on some important premises, like inventing new ways to support living artists and empower everyone to collect original works.
But its most vital distinction is its goal to simplify our relationship with art, and put matters into the hands of the real expert- you.
Buy What You Love is the Art Bomb motto, something seemingly so obvious but missing in the constantly changing landscape of museums, commercial galleries, auctions, academia, interior decorating, and other creative initiatives.  Carrie Shibinsky, who worked at the Art Gallery of Ontario for twenty years before  founding Art Bomb says, "I started Art Bomb to democratize art! I wanted to make it easy for everyone to own original works of art, at price points that were affordable."
The simple concept developed from the old cliché about whether or not artwork should match your sofa. Yes it can, or no it shouldn't, really depends on what you love.
"I wanted to make the experience of looking at art and choosing art a private one," Carrie says. "With no one but you influencing your decision. When you see a work of art and fall in love with it, that's the one! That feeling of 'I have to have it!'"
Art Bomb is still the only service that delivers a few curated works to your in-box each day for auction, a concept that grew out of direct communication with their subscribers' wishes to see two or three works daily. There are all kinds of galleries, and millions of works on the sites of individual artists, selling art online. Art Bomb wanted to remove the overwhelm and simplify the online browsing experience, bringing a handful of carefully selected works to your attention each morning. We excitedly open our Art Bomb email and engage with art every day, expanding our horizons with a variety of creations, and bidding on pieces that we love.
As an artist, I appreciate that collectors include a few millionaire aficionados as well as folks who haven't yet bought a single piece of original art. The best way to support the arts is to engage with them- buy tickets to a small theatre play, or to the symphony, or buy an original work of art. Art Bomb understands that the passion of the collector is the real "expert." They'll help you start or build your collection.
It's easy- enjoy the others, forget the rest, and buy what you love.
Lorette C. Luzajic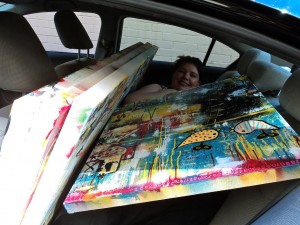 Lorette C. Luzajic is a mixed media artist working in collage, painting, and photography, who has been with Art Bomb for several years. She is a journalism graduate whose true love is art history, and she is the editor of The Ekphrastic Review: writing and art on art and writing. She is the author of fifteen books of short stories, poems, and essays on the artist's life, the most recent being Aspartame, a collection of poems inspired by paintings. She will be blogging here for the next few months, introducing other art bomb artists, and sharing anecdotes, news, and collecting tips with other art lovers.
Visit her at www.mixedupmedia.ca.
To purchase or inquire about artwork viewed on this blog, contact Carrie Shibinsky at [email protected].