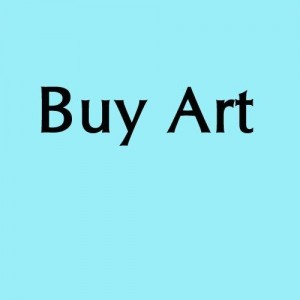 Yes, You Can Buy More Art!
I received an interesting RSVP some years ago to an exhibition I was hosting. A woman sent a letter declining my invitation because, she wrote, she wasn't in a financial position at the moment to buy any paintings. She wished me great success and was sorry she wouldn't be able to make it.
I was puzzled by her sense of obligation and responded by saying I suspected most people attending wouldn't buy anything. We want people to buy our art, of course, but shopping can be a long process. We go into a dozen shops before deciding on a pair of pants, and we research a number of car models we like before choosing one. Sometimes we browse all day at the mall and don't take anything home. Going to an art exhibition is no different. I told her she wasn't obligated to buy the work, or even to like it. I assured her that she was welcome to come by for a few glasses of wine and to leave empty handed.
This particular patron owns a wonderful, culturally diverse selection of works by local Toronto artists, including sculptures, photography, paintings, and two works by yours truly. In my mind, she was already an inspiration to the broader art audience. She did end up coming, but explained that she felt some responsibility to buying. In her mind, just looking all the time was a kind of robbery.
I do not share this unusual view, but having it brought to my attention, found myself appreciating where she was coming from. I still want folks to look at as much art as they are able to. Attending art shows and showing our creations to your peers is a tremendous support. But through this interaction with a collector, I came to see the obvious. That yes, you should buy some art.
After all, if the people who love art don't buy it, who will?
Most people who love music buy music. Those who love fashion, and those who don't, all buy clothes. Movie lovers attend film festivals or Tuesday night cinema specials and have Netflix subscriptions. Aficionados of food culture support chefs, wineries, new restaurants, and organic olive farmers by going out to eat.
But most people who love art never buy it.
Think about that for a minute.
Since you're an art lover, you already know that artists make the world a more colourful, interesting place. We might add beauty, we might bring new perspectives to culture or politics, we might have a place in documenting the narrative of history for future record. Whatever we do, it matters to you.
It's true we could all quit making art, we could quit experimenting and improving, and probably contribute to the world and to our own life in other ways. I could work at a factory to make socks or do pharmaceutical research or train to be a celebrity athlete. But since art matters to you, and it matters to me, we both want me to continue creating. And artists need supplies and studio space and experiences that fuel their inspiration in order to keep creating. And they also need socks and pills sometimes, and they might want to watch sports with friends once in awhile. They need food and transportation and shelter.
So buy some art!
I want to empower you to buy more art. Perhaps by honestly examining objections, we can overcome them.
I want to replace your objections with objectives.
Some art costs a small fortune, and I am always humbled and grateful when someone forks over my next month's rent instead of going on vacation or buying a spring wardrobe. Thank you.
But what if you simply can't afford the luxury of a much coveted statement piece?
Let's start with the most common and most truthful objection: "I can't afford it."
Let's turn this into an objective: "I want to buy some art I can afford."
The solution is simple- forget about price tags that are over your head. There are countless arenas where you can access affordable artwork. I know of no place better than Art Bomb's daily auctions. Right now, you can decide you'll bid on the next few works you see that you love.
There are all kinds of solutions inside of this objection. You could buy art instead of buying other things. I'm not suggesting you tell the kids they won't be taking lunches to school for the rest of the year, but shifting priorities is one way to ensure you can own some original artwork. You can buy from unheard of artists. We all need to start somewhere. If you can't afford their larger pieces, you can buy smaller works by your favourite artists. My original artworks start at just 60$. Don't think this kind of purchase won't matter to us. Sixty bucks is a nice chunk of new supplies, or a bag of groceries, or the phone bill.
"I don't have much room" was my personal objection. Related, I often hear, "I love it, but I really don't know where I'll put it." Here's the thing: you need to make the room. Find a place for it. Don't deprive yourself of original art, and don't deprive artists of sales from someone who loves art. It's absolutely true that living in a Toronto apartment, I need all of my walls to store my own artwork and to be able to see it while it's in progress. My solution was to begin collecting small works. I buy very small paintings and collages, many are as small as 2×2 inches, or postcard sized pieces. There are some 8×10"s and 16×20"s and they are enormous! By putting them all up in an eclectic, crammed jumble on one wall, my collection has become one of my collages and a source of endless inspiration. Your objective is the same: make some room. Any room.
The third most common objection is not knowing how. You love art, but don't really know where to start. Start there: buy what you love!
If you are shopping for clothes, looking for a place to eat, or buying music, this objection doesn't come up. Overcoming this objection is easy by creating the objective to get started. Participate. Subscribe to Art Bomb Daily. Start looking at the websites of artists you like with a potential purchase in mind. Pick out something from your niece who is in art college. Choose a $20 piece from the guy on the boardwalk. If you are interested in making a significant purchase, then go ahead and seek out an expert for information or advice, just as you would for plumbing or gardening or veterinary care or anything else you don't know. Consult with the curators at Art Bomb.
Yes, collecting art can be an academic pursuit, and it can be like the stock market, all about investment return and risk. And if you decide to go into the passion in one or both of those directions, you'll learn as you go. But art lovers should be buying art for other reasons: because it enriches your life as much as the sale enriches mine.
Lorette C. Luzajic
To inquire about purchasing featured artworks in this blog, contact Carrie Shibinsky at [email protected]
Lorette C. Luzajic is a writer and artist working in collage, paint, and photography. Visit her at www.mixedupmedia.ca. She is also the editor of The Ekphrastic Review: writing and art on art and writing.