Five Other Canadian Artists You Should Know
Over the weekend, we celebrated Canada Day and my mind turned to a recurring train of thought- Canadian art.
Like thousands of others, I visited the opening of Steve Martin's Lawren Harris exhibition opening at the Art Gallery of Ontario. Steve Martin is a longtime art collector, and his motivation for curating this project is wonderfully simple- he wanted to take Lawren Harris outside of Canada and show him off, and he knew his celebrity would bring attention to that cause.
It's a very significant event because it marks a shift in art history. Canada's rich and varied artistic heritage has been underrated and too often unnoticed. While some find this depressing, I find it very exciting that Canada's creative pinnacle lies ahead. This major event, which showed on both coasts of America before landing here at home, is just the beginning. Our past icons will be given new life and recognition, and the fact that contemporary talent has hardly been acknowledged only means that our spotlight lies ahead.
Ours is a young culture, one that is still being created. We do not have thousands of years of a certain legacy; rather, we are a world of cultures coming together with ancient native history and seeking through art a celebration of differences and a resolution of conflicts, reflecting our divergent and shared histories and our perspective towards our country and the world in a dazzling variety of ways. The best is yet to come.
To celebrate Canadian art, here are 5 artists you should know. It is an arbitrary selection of personal interest drawn out of a hat from hundreds worthy of listing. My hope is that you will nod at a favourite, explore unfamiliar names, and be led through and beyond to many more.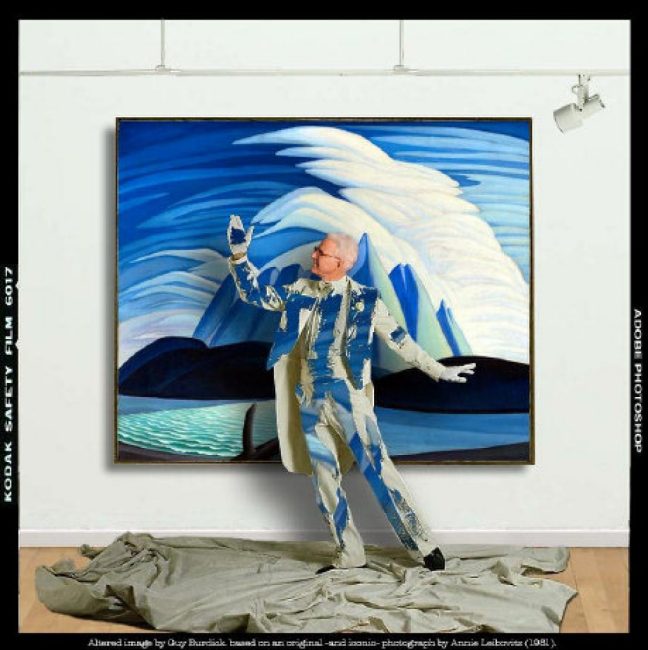 Benjamin Chee Chee
There are many tragic stories among the lives of artists. I suspect this is how it is among anyone, but those in creative professions wear their personal lives on their sleeve, in public view.
Benjamin Chee Chee was a northern Ontario Ojibway artist. It was not his semi-orphaned life, his substance abuse, or his violent temper that set him apart- it was the fact that his work did not show this tempest: Chee Chee's sparse, distinctive imagery manifest absolute serenity and elegance.
In light of the artist's prison suicide in 1977, they are especially heartbreaking. He was 32.
William Ronald
Everyone knows about the Group of Seven, but there was also the Painters Eleven. These were avant-garde, edgy, colourful folks discontented to keep on painting landscapes when modernism meant the world had moved into deconstruction, expressionism, and abstraction.
William Ronald was one of the eleven, and he happened too soon- his antics are fading into the mists of history when they are meant for Instagram and Twitter. He liked to dress in head to toe pink suits, or come to an art show flanked with strippers on each arm.
He painted massive sprawling and jumbled abstracts, but perhaps his quintessentially Canadian contribution was a series of outlandish portraits of 18 prime ministers. Pierre Trudeau was the guest of honour at the opening party.
Toller Cranston
When Toller was a child, he wanted to be a ballerina.
He was given hockey skates to make a man out of the boy. So he began dancing the ballet on blades, and skated on to become the Nijinsky of figure skating.
Indeed, Cranston is best known for winning the Canadian figure skating championships six years in a row, as well as a World and an Olympic bronze. But his most remarkable accomplishments took place after he retired somewhat reclusively to Mexico. There, he created some thirty thousand paintings.
It is impossible to compare his works to someone else or even to describe them: they are ornate, lavish, mythical, magical works evocative of fairy tales or world legends. They somehow summon Russian Orthodox and native Mexican at the same time. There has been relatively little recognition of this fascinating other life, but I predict it will resurface one day, resplendent, and Cranston will be considered as an important Canadian artist.
Doris McCarthy
Doris McCarthy is the famous Canadian artist of whom nobody has ever heard.
She has been recognized, exhibited, written about, and honoured, and yet is not a household word.
She passed away in 2010, after living exactly one century. She painted continuously, alongside teaching for forty of those years. McCarthy studied with the Group of Seven members and her landscape style reflects a stylistic kinship, but she never made it into the boys' club. In truth, she out-painted some of them by a long shot, leaving the confines of the Canadian outdoors as a subject and travelling to Japan, India, Costa Rica, Spain, India, Ireland and the Arctic to paint what she saw.
William Kurelek
William Kurelek's work traverses a path from whimsical to terrifying and Bosch-like without warning. His work is illustrative and detailed, but on an epic scale, showing everyday Canadian life from coast to coast.
There is something so sweet it's barely tolerable in his idyllic tableaus of childhood in the snow or campfires under the stars, and yet the distinctive aesthetic and underlying angst are utterly compelling.
Kurelek's life was a topsy turvy battle with depression, but his conversion to Catholic Christianity brought him tremendous healing and a philosophical paradigm that made sense out of his sorrow over man's heart of darkness.
There are lots of kid's books illustrated on the market, but the best way to appreciate Kurelek is in person at various Canadian galleries. Perhaps something is always lost in translation from canvas to print, but it's especially true in his case. There is a very subtle quality in his work that I can't express except to say, go and see them. Some of his works show at the AGO.
Lorette C. Luzajic
Lorette C. Luzajic is a writer and an artist working in mixed media collage, abstraction, and photography. Visit her at www.mixedupmedia.ca.