All this Week ArtBomb Celebrates Women and Mothers!
With offices Across Canada ArtBomb is featuring women artists from each region.
A percentage of the proceeds from this weeks sales will go to The Canadian Breast Cancer Foundation!
West Coast artist Shannon Mujagic
Shannon Mujagic is a North Vancouver artist and participates regularly in the yoga and art community. This practise of yoga and meditation prove to be a powerful combination to connect Shannon with her creative side - highlighting the Buddha & lotus flower - in her paintings « 1965 » and « Mumbai Lotus » as symbols of the attainment wisdom and enlightenment. 
1965 - mixed media on canvas, 24 x 24 - $595 / 
Mumbai Lotus -  mixed media on canvas, 36 x 36 - $975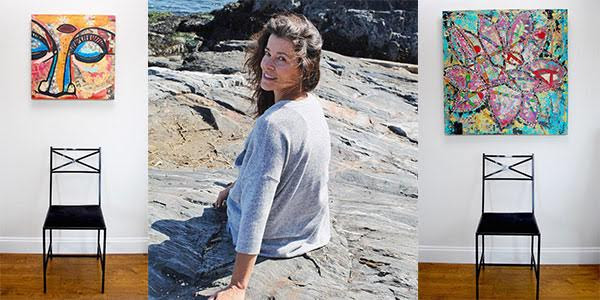 Toronto artist Yasmin Zane
Toronto based contemporary abstract artist, Yasmin Zane works with acrylic paints and using traditional painting techniques influenced by the likes of Kandinsky, Malevich and Richter.
Her work as a Horticulturalist allows her to explore new places around the world and transition her experiences and photographs into colourful, textured, vibrant and bold paintings. Many of the textures and colours in her paintings are inspired by the urban and rural landscapes that surround her everyday.
For Sale:
Tuning in Nature, acrylic on canvas, 36 x 48 , $995/
Pulse, acrylic, geodes, bark on canvas, 48 x 48 - $995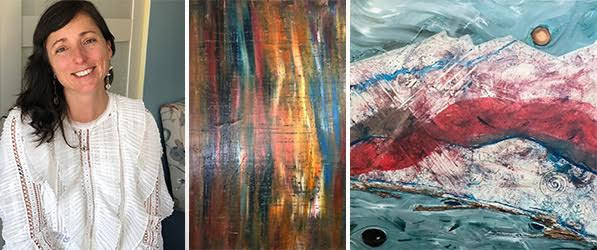 East Coast artist, Gloria Wooldridge
Colour has been a driving force in Gloria Wooldridge's life. She is creating with vivid colour, determined to "translate the beauty of colour from heart to canvas" capturing the essence of the gentle rolling hills, beaches, and water scenes of Prince Edward Island, Canada's smallest province.
For Sale:
Covehead Harbour Lighthouse, acrylic on canvas, 24 x 24, $950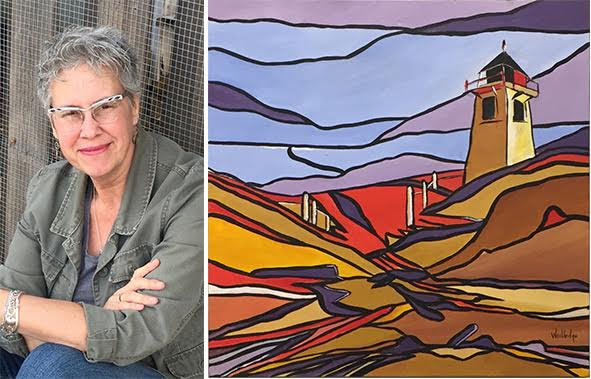 Ottawa artist Stefanie Leigh Kirby
Stefanie Leigh Kirby
is a gestural & expressive painter working in acrylic, mixed media and oils. She completed her Bachelors of Fine Arts degree from Mount Allison University, where she was awarded the Murial Hewson Philip Award for Best Drawing. Inspired by the medium of paint itself, Stefanie's paintings are rooted in the process of discovery. Thoughts, emotions, aspects of the human condition and perspectives of our environment all interplay in this journey. Each painting begins with an inspirational thought, which is quickly layered revealing or obscuring colours, marks, and brush strokes. The process is both methodical and fluid thereby exposing the process in each piece and allowing the work to form an identity.
For Sale:
School, acrylic and epoxy resin on canvas, 24 x 34, $720/
Unchartered Territories, acrylic and epoxy resin on canvas,14 x 18, $325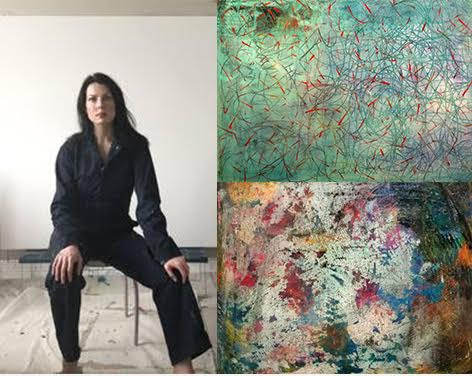 Calgary artist Ludmila Kalinina
Born in the Arkhangelsk city (Northern Russia) Ludmila graduated from the State Arkhangelsk University and for five years studied in Moscow at the All-Union Scientific Art Restoration Center receiving a diploma as an artist-restorer of museum textiles. Ludmila worked as a research worker and a restorer at the leading museums of Russia, before moving to Calgary, Alberta in 2003.
For Sale:
Poppies in Green, oil on canvas, 36 x 36 - $1590 /
Jamaican Me Crazy, oil on canvas - 24 x 48 - $1490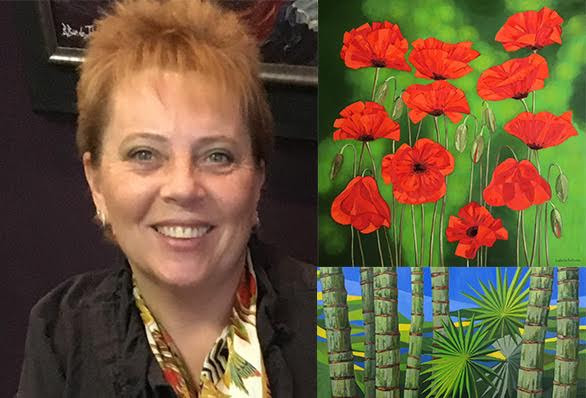 East Coast artist Sylvia Calver
I am a fourth-year student currently attending Nova Scotia College of Art and Design in Halifax. I enjoy exploring the materiality of paint and how transformative it can be on any given surface.  I think it is important to challenge the "boundaries" of what defines a painting. A painting can be an object; it does not need to hang on a wall.  A painting can be made with any tool the artist chooses to use. It is the concept of a painting that defines it. Utilizing traditional cake decorating methods, I have discovered how to achieve the thickness of paint that I crave.  Colours and how they interact with each other, thickness, ornamentation, and pattern are defining features of my work.  My paintings involve a playful, humorous, and pseudo-psycho undertone. The intention behind my most recent work was for the viewer to experience a lust or an appetite for thick oil paint, just as I do. When I create my Cake paintings I lay them flat on a spinning wheel and treat the canvas like a cake, as if I am actually decorating one." 
Pattern No 1, oil on canvas, 8x 8, $500/
Adeline in Flowers, oil on canvas, 10 x 8, $800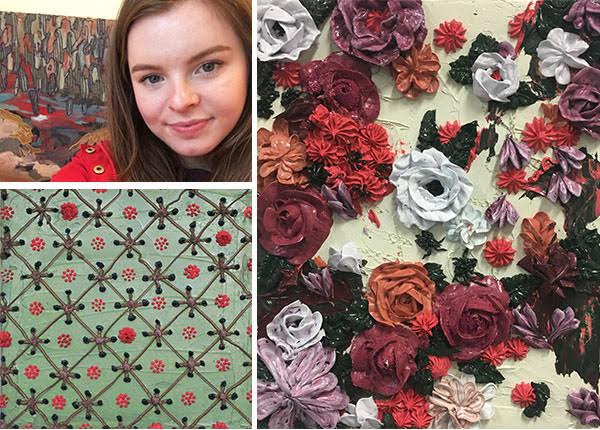 Toronto artist Otilia Scriuba 
  "I create surrealist and symbolist art. My art speaks about feelings, emotions, dreams, imagination and my own interpretation of reality. Sometimes I use well known symbols to create my stories, other times I create my own symbols.  As for the techniques, I am a mixed media artist, for my paintings I usually use acrylic, acrylic spray, oil, and for my graphic art, printmaking, especially monotyping, pencil, pastel and watercolour. I have displayed my art in many juried international, national and local art shows, in Canada, Romania, Italy, Spain, France, Mexico, Germany and Hungary. I have a Bachelor's Degree is Fine Arts and Arts Pedagogy, a Master's Degree in Organizing Cultural Projects."
Monologue, mixed media on canvas, 24 x 18, $600/
Sunrise Mirage, mixed media on Canvas, 40 x 30, $1000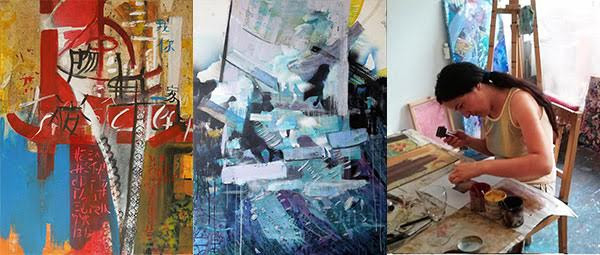 Ottawa artist Karen Phillips Curran
For over 20 years, Karen was Head Scenic Artist, at Canada's National Arts Centre, painting their theatre production sets. A sense of monumentality, coordination and speed are basic requirements for theatre set painting. Her watercolours and acrylic paintings have been exhibited locally in Ottawa, as well as internationally in Bermuda and the southern USA. These days she lives in the Ottawa valley in her cabin at the edge of the woods, with her purpose-built studio.
Warm Stones, watercolour paint on paper mounted onto wood, 12 x 16, $250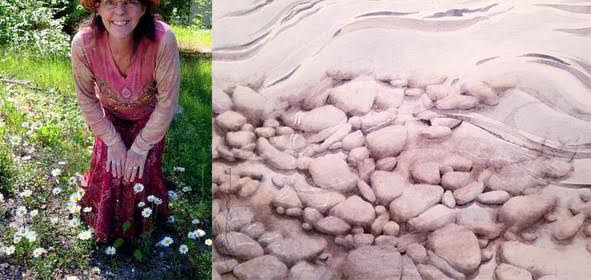 East coast artist, Erin Hollingshead
Erin Hollingshead is a painter and printmaker from Halifax, Nova Scotia. She recently graduated from NSCAD University with a Bachelor of Fine Arts Degree. She often uses bright colour, graphic space and imaginative manipulation of reality.
Moth Studies(2 works), acrylic on panel, 8×10, $300
  Quebec artist Katharine Fletcher
I am a freelance writer, columnist, author, editor and visual artist. "Nature and the natural world inspire my life and work. In particular, I have adored horses since I was a little girl, so my Spirit Horses dance through my mind, translated into my mixed media, painted pottery, woodblock prints and other creations.  I am an active member of the Ottawa-Gatineau Print Collective, La Fab Arts Centre, Ottawa Mixed Media Artists, and the West Carleton Art Society."
For Sale:
Spirited Horses, Mixed media on canvas, 20 x 16, $650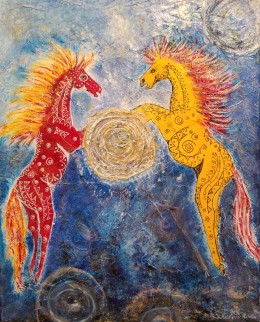 West Coast artist Caroline Dahlmanns
"A native New Yorker, I am an artist living in Vancouver, BC. Using oil and cold wax as well as acrylics, I strive to capture the essenceand characters of my subjects with thick, sensual texture and loose brushwork. My inspiration comes from all over: the beauty of a particular gesture, luminous light, the feel and energy of a tender encounter with another, the physical beauty of my surroundings. Most of all, I strive to communicate theessential energy of a moment. My works are in private collections in North America, Europe, and Asia. An Active Member of the Federation of Canadian Artists and member of the North Vancouver Arts Council, I studied at the School of Visual Arts, Parsons School of Design, Grand Central Atelier, Art Students League of New York and hold a B.A. from the University of Pennsylvania.
Rise, acrylic on wood, 12 x 12, $325/
Blush, acrylic on wood, 12 x 12, $325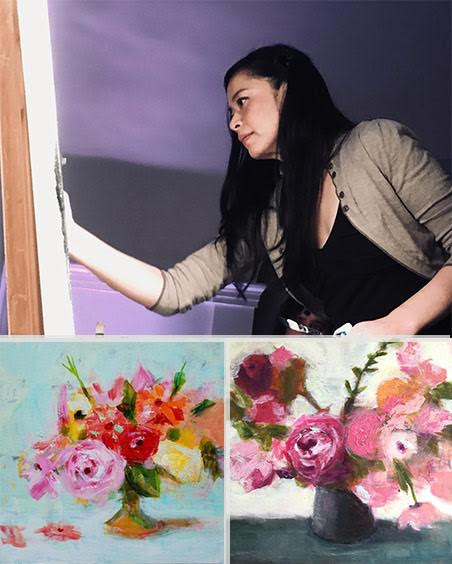 Montreal artist Melanie Arcand
"I have a passion for colors.  I love how they light up, enhance or distort. I like to discover them, understand them, dissect them, deepen them.  I like disruption, intuition, the not-so-perfect, the genuine, the authentic. My paintings are quests, trials, errors, reconstructions and emotions. I love art, passion, the accessible and the unpretentious.
I try to create modern, decorative, and literal art that highlights texture and mixed colors on large-scale canvas to maximize the impact of colors and highlight each spatula stroke. Colorful accents play an important role in my creations; they are the essence of vividness, depth and cohesion within the painting. I'm passionate about the environment, and rely mainly on conscientious mediums such as recycled and chalk paint along with natural wax."
For Sale:
Je Revais Full de Toi, mixed media on canvas, 30 x 30, $680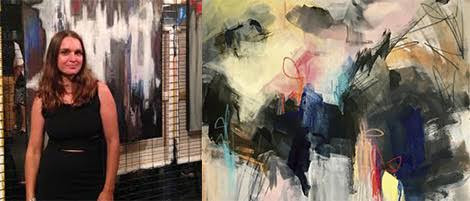 Montreal artist Nancy Letourneau 
Nancy Létourneau is a graphic designer, painter and ultra marathoner native of Quebec. After studying art at the Notre-Dame-de-Foy Campus and at the University of Quebec in Montreal, she continued her studies in graphic design. She graduated in 1999 and started her company: Studio Pixels.
Recipient of the 2013 Mention of Honor in the "Agents looking for talent" contest at the Maison Dupont Gallery in Mont-Saint-Hilaire, Nancy Létourneau adopts an artistic approach imbued with her two passions, which will enable her to present her creations in several exhibitions.
Flegmatic, mixed media on canvas, 24 x 24, $600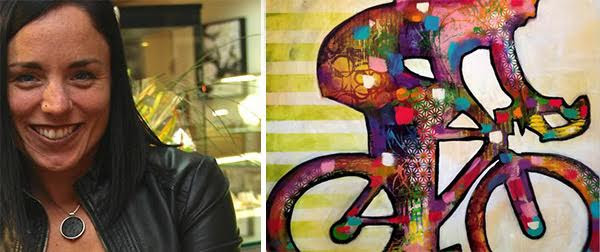 Calgary artist Melanie Figueroa
Raised in Calgary, AB, Melanie studied at ACAD where she studied in the Visual Communications program. Her design skills and manual aptitude landed her in the professional picture framing industry where she incorporates all aspects of her art education. The framing business keeps her connected with artists and the arts community, enhances her own art practice and supports her (outrageous!) addiction to art collecting and framing.
For Sale:
Cozy Chair, acrylic on canvas, 22 x 28, $1050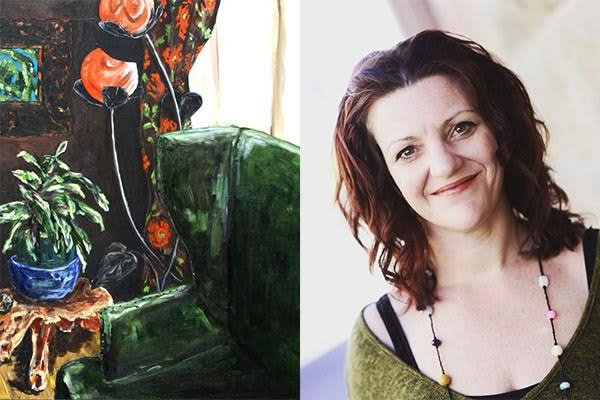 for easy delivery and payment options.
 At ArtBomb, we truly believe that art makes life better. ArtBomb wants you to transform your spaces and fill your white walls with original works of art.